East-enders get a dose of the Phat Phace. Phetus exclusives now at Genuine Artikle in Lake Ronkonkoma.
Genuine Artikle is nested in the village of Lake Rokonkoma Long Island New York.  They represent the best of true underground artists featuring paintings, hosting art shows, urban vinyl, blind box, DIY designer toys, handmade apparel and accessories from designers worldwide.
West Coast fans can see Phetus' work at the Sketchbot Custom Show V2 at Munky King, LA. The show will run from tonight until December 24; check out Munky King for more details.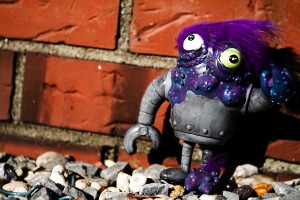 With NYC conquered we've moved on to our own turf.  Street Gear NYC has partnered up to sell Phetus Exclusives.  I AM L.I., Goons & Bots, and Concrete Immortalz gear available right in the middle of Long Island.
Street Gear NYC stocks the biggest brands and hottest indies on the urban scene. They have everything you need for head to toe phreshness, including the latest Phetus Exclusives.
Street Gear NYC
245 Fulton Avenue Hempstead, NY 516.538.1603
www.streetgearnyc.com
Hours: Monday-Sunday, 10-7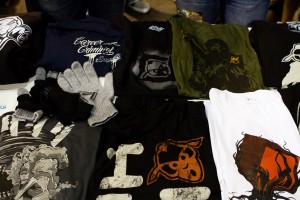 Last week Suckpax 2 &The Art Hustle brought us back to our childhood when we dropped all our milk money on trading cards. This week we revive the good old days when you had to leave the house for new comics. Whether you're in the city or on the fishtail, Concrete Immortalz is now in stock at a store near you.
In the dismal future of NYC , The Wall Lord tags the sterile buildings of the new regime with messages of resistance to inspire the city's oppressed. But how long can he run from the Vandal Squad, and his painful past? Featuring art by Phetus, Concrete Immortalz explores the true power of graffiti and the role of art in society.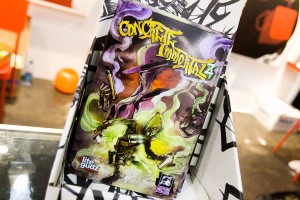 Now available at:
Da Bakery NYC
1700 Southern Blvd Bronx, NY 10460 917.652.4008
www.dabakerynyc.com
Genuine Artikle
527 Hawkins Avenue Ronkonkoma, NY 11779 631.615.2830
www.genuineartikle.com
While you're there check out the latest Phetus Exclusives to layer up on these chilly November days.
Stores all over NYC are grabbing up the new Phetus Exclusives, and Toy Qube boutique is now selling some of our hottest designs.
Toy Qube represents the best goods from street culture, pop art and the exploding toy scene. Located straight out of the Q borough in Flushing, TQ is known for its toys, art & clothing from the modern urban-pop scene. Toy Qube carries Phetus custom sculptures, fine art, and now Phetus Exclusives clothing are available in-store.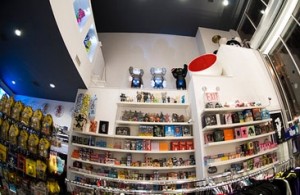 Toy Qube
3706 Prince Street
Flushing, Queens, NY 11354
718.939.8605
www.toyqube.com
Hours: Monday-Sunday 12-9
This just in: Phetus will have his own card in The Art Hustle 2. The Art Hustle series of trading cards profile artists with backgrounds in street art, illustration, aerosol art and more. With a Phetus card on the way for next year's release, this is going to be a must-have set.
The announcement was made at Suckadelic's 1st Annual 2nd Avenue Trading Card Convention & Swap Meet at Toy Tokyo.

Artists & card lovers came around to hear the news and celebrate the release of Suckpax 2. Old-school wax-wrapper cards that bring back the good old days of trading, Suckpax 2 features exclusive sketch cards from Elite Gudz' own Phetus & Mr. Den.
Original Topps Star Wars Galaxy Series 5 sketch cards were also on display, featuring work by our own Mr Den & Rolo. Den's signature owls became the newest sidekick to Darth Vader, and Rolo reinterpreted some of Mos Eisley's favorite barflys.
Star Wars, Suckpax & shout-outs from The Art Hustle; it was a great night to be in NYC.
Elite Gudz is proud to announce that Da Bakery now carries Phetus Exclusives. The War on Drugs, Wall Lord Glow Tee, Career Criminal and more are on sale now.
Located in the heart of the Bronx, Da Bakery brings the best of the worldwide graffiti movement back to where it began. Owners SEN2 and BEOND opened their store in May 2009 after a career in graffiti art, graphics and silk screen printing. Da Bakery is a specialty boutique, graffiti shop & gallery that sells some of the best independent street wear brands on the market today, now including Phetus Exclusives.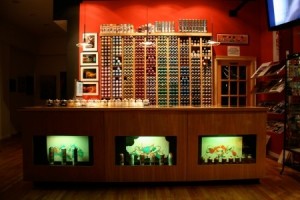 Da Bakery NYC
1700 Southern Blvd
Bronx, NY 10460
917.652.4008
www.dabakerynyc.com
Hours: Monday-Saturday, 11-8
Big thanks to Da Bakery; it's a pleasure doing business with you.
Elite Gudz is taking the city one borough at a time; Harlem Underground Clothing Company now carries Phetus Exclusives.
For over a decade, Harlem Underground is the place for locals and visitors looking to find the soul of fashion in the neighborhood. They sell the largest selection of Harlem themes tee shirts in the world, and a wide range of quality urban wear brands like Phetus Exclusives.
Harlem Underground
20 E. 125th Street
New York, NY 10034
212.987.9385
www.harlemunderground.com
Hours: Monday-Thursday 10-7, Friday-Saturday 10-8, Sundays 12-6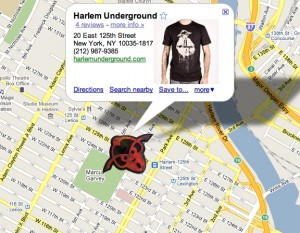 Big props to Harlem Underground for helping Phetus take Manhattan.
Weekend after halloween, do something mellow; go to an art show. Nov. 5 swing by the The 1st Annual 2nd Avenue Trading Card Convention & Swap Meet @ Toy Tokyo Underground. Our buddies at Suckadelic are hosting the show, auction, & release of Suckpax  2, which includes exclusive artist sketch cards from Elite Gudz' s Phetus and Mr. Den. Along with new Star Wars Galaxy 5 sketch cards, 75 contributing artists and promised random surprises, this show is sure to be a fantastic night.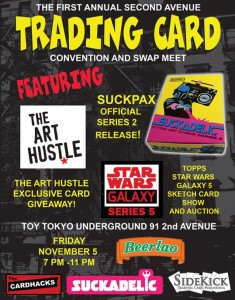 November 5 @ Toy Tokyo Underground
91 Second Ave. NYC
7-11pm
There will be Beer (thanks Beerlao)